Dr. Alec Holland had all the answers... he was an intelligent man... but Alec Holland is dead... and in his place stands only a... SWAMP THING!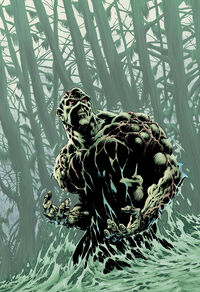 In a secret facility located in the Louisiana swamplands, scientist Alec Holland and his wife Linda invented a bio-restorative formula that would solve any nations' food shortage problems. Ferrett and Bruno, thugs working for Nathan Ellery, barged into Alec's lab, knocked him out, and set a bomb. Alec woke up as the bomb exploded, and his corpse was blasted into the swamp. The corpse was drenched in the bio-restorative formula, and this affected the swamp's plant life, imbuing it with Alec's consciousness and memories. The newly conscious plant life formed a semblance of a human form and rose up from the bog as the Swamp Thing, the latest in a long line of Earth elementals created when Earth was in need of protection.
The Swamp Thing originally thought he was a transformed version of Alec Holland, and longed to regain his human body.
More on this character soon, for the mean time read the characer's bio here:
http://dc.wikia.com/wiki/Alec_Holland_(New_Earth)