"
You will know my name one day. And on that day you will beg for mercy. You will scream my name! SCREAM IT!"
--Bane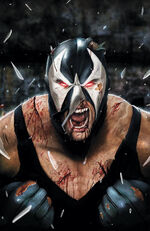 Bane
is a brilliant world-class fighter and tactical genius who augments his great physical strength with a steroid called
venom
. Raised from childhood in the
Peña Duro
prison on
Santa Prisca
, he determined that he would destroy
Batman
to prove himself, and succeeded by breaking the hero's back during
Knightfall
. Since then he has been an international crimelord, an anti-hero, a mercenary, a government agent and even a dictator. His father is the legendary martial artist
King Snake
. He has been a member of the
Secret Six
, the
Suicide Squad
and the
Secret Society of Super-Villains
.
Bane
was created by
Chuck Dixon
,
Doug Moench
and
Graham Nolan
, first appearing in
Batman: Vengeance of Bane #1
. (
1993
)
Read More here:
http://dc.wikia.com/wiki/Bane_(New_Earth)